This is how you get to Emmanuel Church – Pok Ful Lam, the English speaking Anglican Church in Pokfulam, Hong Kong. (Please note if you use this Google Map link – Pokfulam Road is only recognised if spelt as Pok Fu Lam Road).
Béthanie is located at:
139 Pokfulam Road, Pokfulam, Hong Kong.
Drivers should follow signs to the Pokfulam Skills Centre (also knows as the Pokfulam Vocational Training Centre) and the Chinese Cuisine Training Institute, which is next to Béthanie. See map below.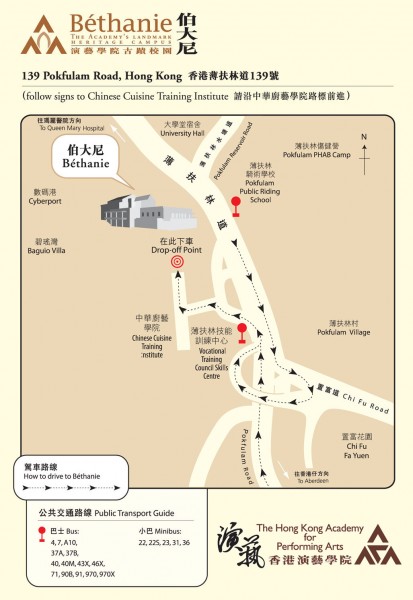 Click here to download directions on how to get to Béthanie.
Bus route guide:
4, 7, A10, 37A, 37B, 40, 40M, 43X, 46X, M49, 71, 90B, 91, 970, 970X
Minibus route guide:
22, 22S, 23, 31, 36.
Weather Rules:
In the event of a black rainstorm or T8 or above at 9.00am or later on a Sunday, the service that day will be cancelled – even if the signal is lowered before 10.15am.