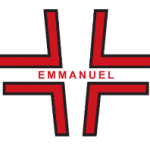 Here is a brief list of some key events at Emmanuel and St John's Cathedral over coming months. For easy reference, Emmanuel's are in red and the Cathedral's in blue. Further details can be obtained during normal office hours from                             Fr Nigel or Fr Robert on +852 2523 4157. 
  Saturday 28th Sept: Hong Kong Museum of History Tour; coach pick up at midday from the Emmanuel car park  (NOT the black main gate). Further details from churchwarden, Wallace Lai – Tel: 9704 2206
Sunday 6th Oct: Harvest Thanksgiving followed by Brunch-on-the-Terrace Everyone is asked to bring some food & drink to share after the 10:15 service. Items of non-perishable food will be donated to Bethune House Refuge Centre for Domestic Helpers
 Saturday 26th Oct: Michaelmas Fair – Emmanuel's Face Painting Stall                           St John's Cathedral from 10:00 – 16:00
Saturday 26th October 20:00 – 22:00: Handel's Messiah. To celebrate the 15th Anniversary of the Inauguration of the Province, there will be a 'Messiah' Thanksgiving Evening held in the Auditorium, Diocesan Girls' School, 1 Jordan Road, Kowloon. All church members of the Province are warmly invited to attend this special musical celebration. Free Admission.
Sunday 27th to Thursday 31st October:  Diocesan Synod
           Sunday 3rd Nov:  All Saints' Tide – Back to Church Sunday at 10:15                  
Wednesday 6th November: First gathering of the new Wednesday Night Together                         Group at Chris & Lydia Erving's home, Flat 8A, Rodrigues Court,                                   350 Victoria Road, Pokfulam. From 19:30 – 21:00. 
 Sunday 10th Nov: Remembrance Sunday: 10:15 Sung Eucharist
Sunday 24th November: During the 10:15 Sung Eucharist, Anila Ma, Development Officer of Operation Smile, will give a talk on the work and challenges of the mission. Operation Smile is one of the charities Emmanuel is supporting during 2013
Sunday 1st Dec: Advent Carol Service at 18:00 – St John's Cathedral
 Sunday 15th Dec: Emmanuel's Nine Lessons & Carols Service at 18:30
Tues 24th Dec: Christmas Eve Midnight Mass at 23:00
Wed 25th December: Christmas Day Sung Eucharist for the Nativity at 10:15am