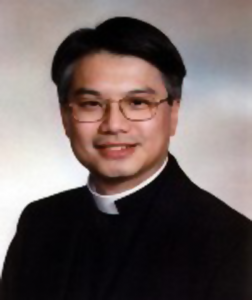 The Trustees of St John's Cathedral, Hong Kong have announced results of the work of the Search Committee of the Board of Patronage. Chaired by Archbishop Paul Kwong, this Committee was convened last year to find a successor to Dean Andrew Chan, following his election as the next Bishop of Western Kowloon Diocese.
The Committee conducted an extensive international search for the best candidate and received responses from priests in the United States, Canada, United Kingdom, Australia, Hong Kong, New Zealand and Nigeria.
The Trustees of St John's Cathedral, Hong Kong are pleased to state that the next Dean of St. John's Cathedral will be The Rev'd Canon Matthias Der.  Fr. Matthias was raised in Hong Kong and attended the Diocesan Boy's School. He is the son of an Anglican priest who himself ministered in Hong Kong, Taiwan and Canada.
Fr. Matthias' 22 years priestly ministry are marked with nurturing Christian discipleship, sharing the gospel and making it relevant to everyday life. Currently, he is incumbent of St. Christopher's Anglican Church in the Diocese of Toronto.
In 2007 he was appointed an Honorary Canon of St. James' Cathedral, Toronto. Canon Matthias is married to Rachel and has two teenage daughters.
Upon acceptance of the post, Fr. Matthias said, "It is with excitement and deep trust in God that I look forward to sharing Christ's ministry with the people of  St John's Cathedral in furthering God's kingdom."
It is anticipated Fr. Matthias will take up his new post in late July this year.