On Sunday 13 November 2011, Remembrance Sunday, Emmanuel Church Pokfulam welcomed back The Revd. Canon David Pickering & his wife Ms. Christine Portman. The following is David's Remembrance Day sermon:
John 15. 13 & 14
No one has greater love than this, to lay down one's life for one's friends. 14You are my friends if you do what I command you.
I suppose it's traditional and expected that on Remembrance Sunday we should focus on the words from my text, to lay down one's life for one's friends.  After all, we are remembering those who have given their lives for others, even though they may not have actually been close or even known friends.
But this morning I'd like to reflect on just word that occurs twice in the quotation, friends.
No, I know nothing about the television programme 'Friends'.
As many of you will know, Christine and I have three children between us; and one of the boys was particularly sociable from quite young age. Some years ago, whenever we went anywhere, he would regularly run off to play with any other children who may be around. After a while, he would return and say, "This is my friend."  And we would have to say, but what is his or her name. We had to remind him that his friend had a name and was not just an anonymous friend.
Names are very important.
One of my colleagues in the Cathedral team always greets people by name. He doesn't just say, "Hello", "Good morning" or whatever the appropriate greeting might be; he always adds the person's name.
I don't know whether anyone remembers the 1993 novel Birdsong by Sebastian Faulks. It is set around the trenches of the Somme during the First World War. But also has a later 1970s period where, Elizabeth, the grand-daughter of the central character of the trenches is trying to trace what happened all those years ago. As she visits various war memorials, she is taken aback by the long list of names. Who are all these people, some times a long list from the same family? She feels that as the years pass by the names become almost like a number, or are just a statistic, a name on a list. To quote the book, 'the names are forgotten, and with the names their stories, their faith, their fear, replaced by cold heartless numbers.'  The sheer anonymity of their sacrifice becomes almost a scandal.
The march of history is like a march to anonymity. Names become numbers. We all have our own numbers of one kind or another; every plastic card has our number, and sometimes our name.
All over England, and no doubt in other countries, many cities, town, villages and communities have their war memorials. Some times more than one in the same locality and the list of names do not always agree.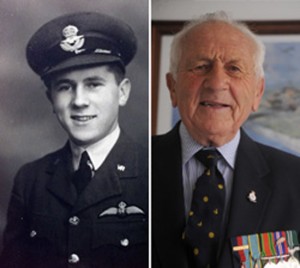 In our village in France, there are two war memorials. One is written in Provencal, which we think refers back to the Napoleonic Wars. The other refers mainly to the First World War, with over thirty names or more, plus just three or four from the Second World War. What Christine I have tried to do is identify them with names of people we know who still live in the village.
Earlier this year, a special commemoration was made for the final surviving combatant from the First World War. No doubt in some time in the not too distant future, there will be a special commemoration for the final survivor of the Second World War. I've got my money on an uncle of mine who was a Battle of Britain pilot.
With time, names do become almost the same as numbers.
But Remembrance Sunday is a day to remind us of the individuality of each and every single victim of war, any war and on any side. Each one was a child of his or her parents, a husband, a wife, a partner, a brother, sister or just a very personal friend, but certainly a loved individual in the sight of God.
Yesterday, I baptised two children at the cathedral, which perhaps above all else expresses our intimate individuality in the heart and mind of God.
God has a single love for each and every human being of all times and all places.
It is important that today we remember all men and women, who have died, and are still dying, through the violence of war, as each one is remembered by and known to God.
Revd. Canon David Pickering